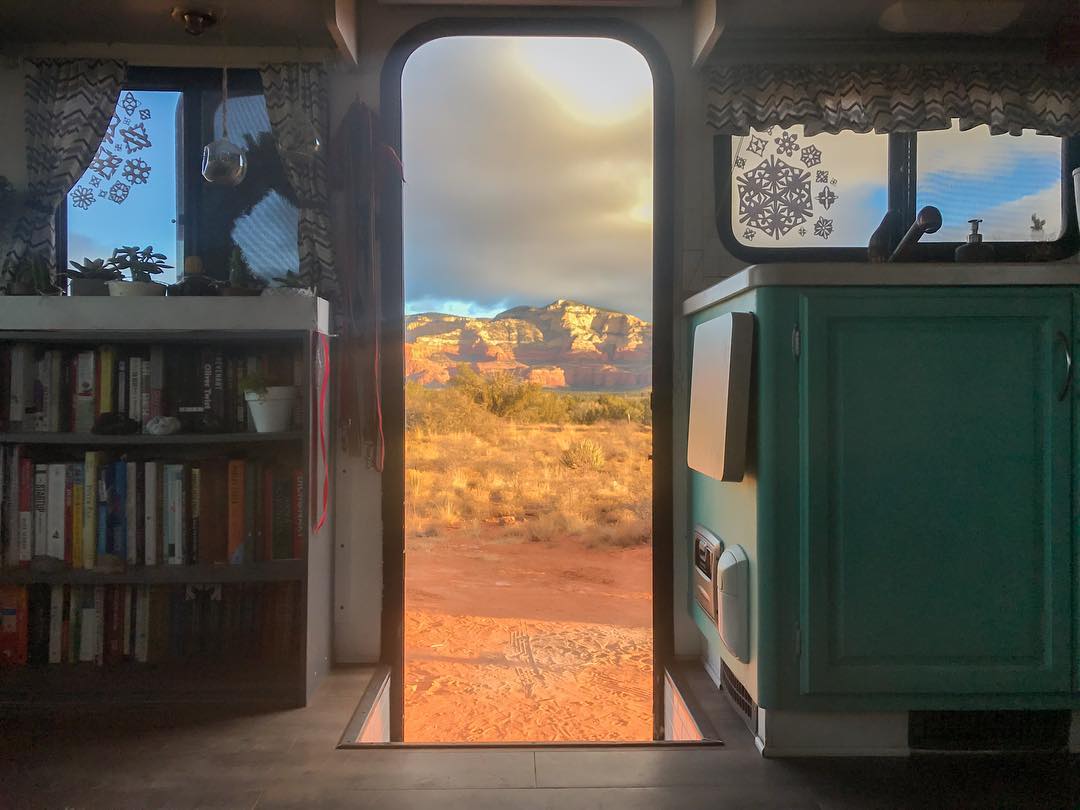 Finding your Boondocking Dream Spots
As full-time RVers, our preferred camping style is primarily boondocking. While planning for full time travel, we anticipated that we would want to spend most of our time boondocking or dry camping. Knowing this, we made a few modifications to our rig which would make boondocking more comfortable and cost effective for us; namely, installing solar panels, a powerful inverter and upgraded batteries has made this lifestyle possible. These modifications provided us with more than enough power for our daily needs while freeing us from relying on our noisy, gas-consuming generator.
Prior to setting out full-time, we craved the wide-open spaces and feelings of silence and solitude to be found in wild spaces, rather than in campgrounds. This lead us out west, where the majority of the boondocking in the US is to be found. So far, our favorite boondocking states have been Oregon, Washington, Arizona, and Utah.
Over the past year, we have had the opportunity to call some of the most incredible locations and landscapes "home" for a short period. With this post, we'll share some tips for finding great places to boondock, as well as some things that we've learned over the past year.

How do you find boondocking sites?
We get this question a lot. We utilize several resources to find our boondocking sites, chiefly Campendium, freecampsites.net, and the AllStays app.
While each of these resources can provide information on countless boondocking sites around the country (and beyond), not all boondocking sites are created equal. When selecting sites to stay at, we use several pieces criteria to evaluate whether a site will both work for us, and if it is somewhere that we want to stay.

Location
Location is the primary factor we use to pick where we will stay, and I think this is true for all full-time RVers, regardless of their camping style. When selecting campsites, we naturally look in places that we are interested in visiting. We typically make a map of all the places we want to visit and then try to find a campsite that is nearby those places. For instance, we recently decided to see the five national parks of Utah during the month of March, so we began to research sites along the route to see these five parks. That gives us a starting point for where to begin our search for the perfect site.
Reception
Cell service is the most important factor which determines where we will boondock. We need connection to work, so it is not possible for us to stay anywhere without halfway decent reception. Unfortunately, the need for connection does eliminate a lot of great boondocking spots for us, but without our remote work, we would not be able to live this lifestyle at all.
Campendium typically has cell service information provided by other users, but occasionally we locate a site that seems great but has no connection info provided. If this is the case, or even if we just want to double check the connection info for a certain site, we use an app called "Coverage?" This app allows the user to plug in the coordinates for a certain location and see the exact level of connection. It has been a game-changer for us.
Accessibility
Another important factor to consider is accessibility. This refers to the conditions of the roads that lead to boondocking sites. Most boondocking sites are accessed via a dirt road, and, while some of these are well-maintained, others can be rather sketchy. We drive a large class A motorhome which has surprisingly high clearance, but roads that are excessively rocky or graded are not possible for us. Campendium reviews usually mention road conditions, so we are able to read about the road situation before entering a new site. In addition, we typically detach our tow vehicle from our RV at the beginning of the road and use that to scout out prospective sites. In all of our travels, we have only encountered a handful of roads impassable for us, but scouting helps us to know exactly what to expect before getting to our new site. It also gives us an opportunity to double check the cell coverage before arriving with the rig and needing to turn around.
Views
The last thing we consider when choosing a site is the view provided. This is the main reason we boondock in the first place. Waking up in an amazing place and looking out our windows at mountains, desert, ocean, or forest is, for us, more preferable than waking up and looking outside at another RV. While this is not the most important factor in choosing a location, it is definitely something that we consider. For example, if we are considering two different boondocking spots in the same area, we will surely opt for the one with the better view.
WHY Boondock?
For us, boondocking is an incredibly enjoyable and relaxing way to spend our time on the road. Being immersed in the landscapes and locations in which we find ourselves can almost be said to have a "nature therapy" affect. We have had some of the best times parked in the most gorgeous places in almost complete solitude.
We'd love to hear your thoughts or experiences on boondocking! Feel free to share or reach out to us with any additional questions.
Follow Samantha's journey on Instagram @lifeamongpines or through her personal blog.